Contact the Importer/Master Broker
Imported exclusively for G, G, & G, LTD.
San Antonio, Texas, USA
By Umberto Erpillo Imports,
7209 Lavender Circle, Dallas, Texas 75230
PH 214-692-9415
FAX 214-891-0504
Mobile 214-675-2065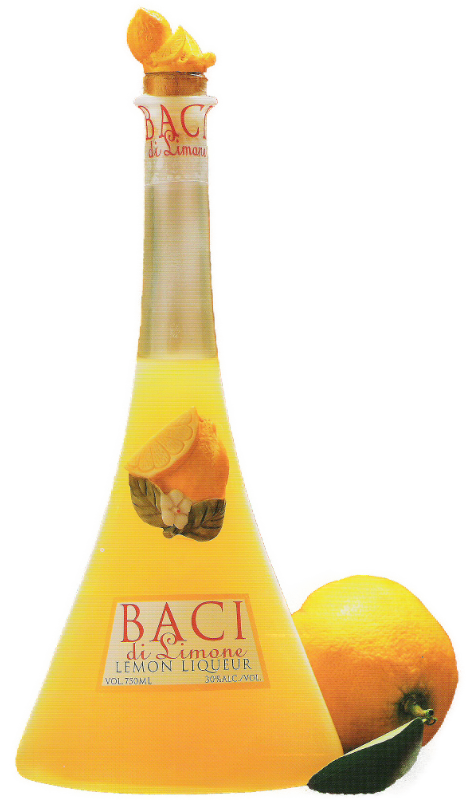 Contact the Sole Source Agent for USA/CANADA/MEXICO?
Sole Source Agent for
USA - CANADA - MEXICO
Mary R. Green
12718 Hunters Chase
San Antonio, Tx 78230
Phone: 210-493-3576
Fax: 210-493-2467
Distributor/Broker by State
BACI di LIMONE is a specially-produced, premier lemon liqueur. It is made by the infusion process which involves soaking the lemons zest in high grade alcohol for weeks. Then, sugar, water, and other ingredients are added. Finally, it is bottled in our unique, handcrafted, and trademarked bottle and affixed with our trademarked name.
BACI di LIMONE is traditionally served straight form the freezer, but it is also delicious in cocktails, over ice cream or fresh fruit, and in food recipes. Marinate shrimp or chicken in it before grilling or stir-frying. Its bright yellow color and wonderfully intense lemon aroma invite you to savour its smooth, full flavor.
Our Company, G, G, And G Ltd, came into being in 1998 for the purpose of bringing the very best Italian Liqueurs to the world.
According to ancient Italian tradition, only kings and princes could own the specially-grown and selected sun-ripened lemons from which BACI di LIMONE lemon liqueur is made.
Please feel free to Contact a Distributor/Broker according to State?
by Importer/Master Broker or Sole Source Agent for USA/CANADA/MEXICO?